🥀️︎︎︎︎︎ ︎🥀️

---
Hidrontes
---
︎︎ Hidrontes is an audiovisual installation created by QOA and Joaquina Salgado, an speculative fiction of watery beings that arrive to dry lands to rehearse composting and care practices, learn to be co-players and co-exist in potential presents.

🔮️
Hidrontes is an audiovisual installation consisting of a video in Loop, synchronized between 3 screens: 2 LED televisions and a projection.




︎ The physical space is dimly lit by blue lights that interconnect the screens and objects present. Also in the space, we can find the Vegetal Guardians - self-braiding palm tree branches with details in recovered copper threads with iron grips.
︎︎︎
︎ One of the LED screens is on the wall in a vertical format, the other one it's resting at 45 degrees on a semi-circular iron platform; this same iron object can also be seen in the video.

The projection is carried out on a braided iron object with copper mesh recovered from discarded cables that has a small hand-sewn fabric screen. What is projected is observed from both sides of the screen, also reflecting, deformed, on the wall.

The video consists of a 3D animation made with Unreal Engine. In the loop video, underwater beings are observed arriving at an empty, abandoned and dry land where they begin to dance and irrigate their inner water, reviving plant life.

These beings are guided on their arrival by a SpirituAI guide, animated using the mocap data technique that replicates the gestures of the face. On the fabric screen, satellite images of the Mina Argentina Bajo de la Alumbrera and a 3D representation made with photogrammetry of one of the vegetal guardians that is physically in space are observed.
Queering Time and Space︎
︎ The sound is a composition made from the digital processing of field recordings made in the Yungas, province of Tucuman, Argentina, digital synthesis and voices. At the moment in which the beings are dancing, a fragment of a Calchaquí copla can be heard in the voice of Celia Segura (1933-2015), a counselor of the Indigenous Community of Amaicha Del Valle, Tucuman, who says "even if they say that I am dead, I am coming back from my roots".

🔮️︎ 🔮️︎

🔮️︎🔮️︎


🔮️︎🔮️︎

🔮️︎

🔮️︎ 🔮️︎

🔮️︎ 🔮️︎

🔮️︎ 🔮️︎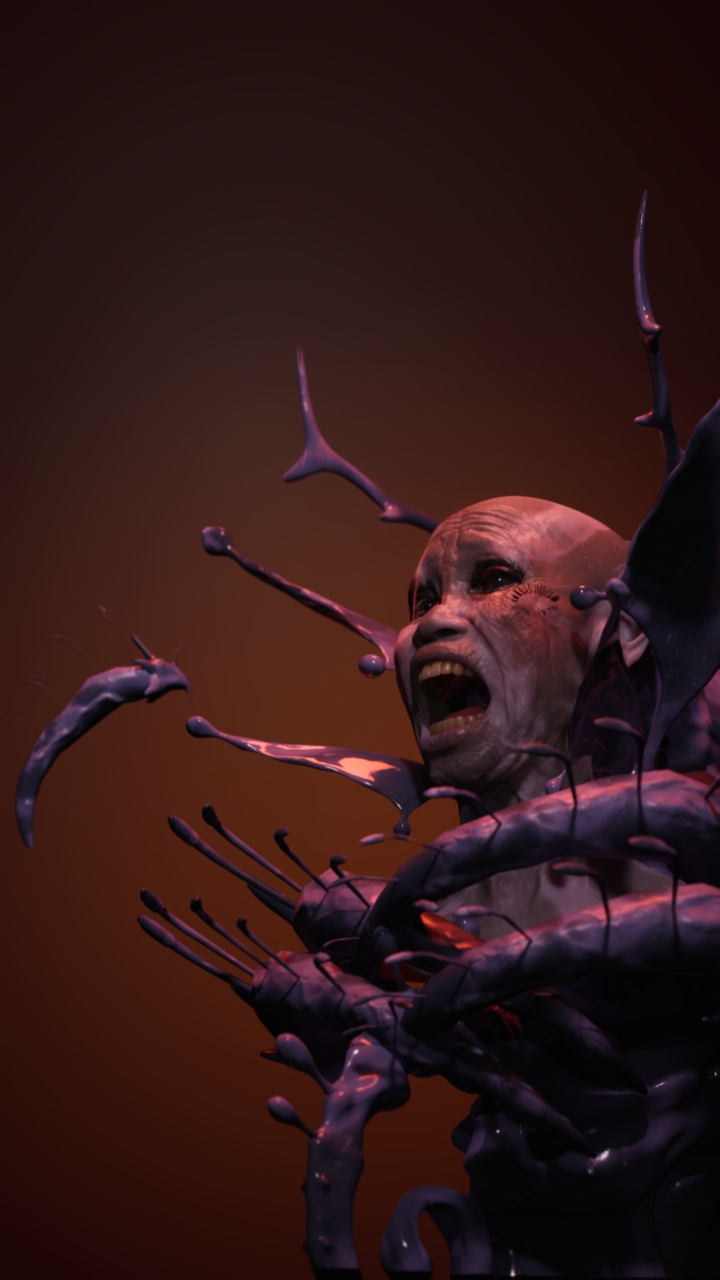 ︎︎ Our Braided practices —-
︎ Nina Corti aka Qoa and Joaquina Salgado are both part of the international network of artists Amplify Digital Arts Initiative, they collaborate together since 2019, they participated in the online festivals of Mutek Japan and Mutek San francisco 2020, November electronic festival, Buenos Aires, Argentina, 2020 and Experimental audiovisual cycle #27 at the Museo MAR, Mar del Plata, Argentina. Currently, they are exhibiting Hidrontes at Fundación Andreani, Buenos Aires, Argentina.
Exhibitions :
March/2022-present:
"Dislocations: recomposition exercises" Fundacion Andreani.